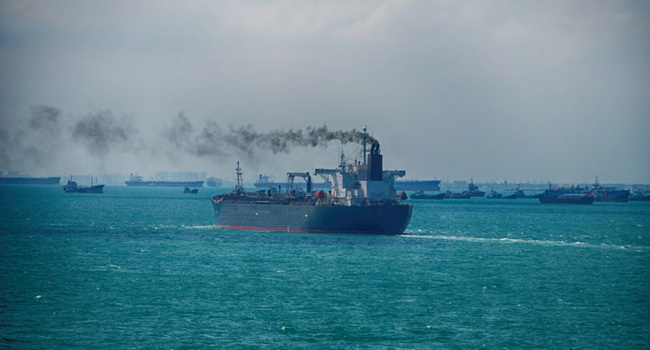 Photo: By Mr Nai / Shutterstock
The International Maritime Organization, the United Nations agency responsible for regulating global shipping, has agreed to move forward with a proposed ban on the carriage of high sulphur marine fuel once new low sulphur fuel requirements come into force in 2020.
Under new regulations coming into effect January 1, 2020, ships will be banned from burning any marine fuel with a sulphur content above 0.5% unless they are fitted with an approved "equivalent arrangement", such as an exhaust gas cleaning system, aka "scrubbers".
The aim of the new limit is to reduce sulphur oxide (SOx) emissions from ships to improve air quality and protect the environment.
During a meeting of IMO's Sub-Committee on Pollution Prevention and Response (PPR), which was held this week in London, the sub-committee agreed to draft amendments to the MARPOL Convention on the prevention of pollution from ships that would prohibit the carriage of non-compliant fuel oil, meaning any fuel exceeding the .5% sulphur content would be prohibited on board, with the exception of ships fitted with scrubbers.
Welcoming the draft amendments, the Clean Shipping Coalition, which has consultative status at the IMO, said the move would close a loophole in enforcement that otherwise leaves open the possibility for operators to avoid the new rules when operating out of sight on the high seas.
"This is an important development that closes a serious loophole in the original agreement," said John Maggs, senior policy advisor at Seas At Risk and president of the CSC. "Banning the carriage of non-compliant fuel will make it considerably more difficult for unscrupulous ship operators to ignore the rule, burn cheaper non-compliant fuel, and escape serious sanction. This decision, which must be confirmed by the IMO in April, will mean a cleaner environment and fewer premature deaths from ship air pollution."
The IMO Sub-Committee has now forwarded the proposed draft amendments to the Marine Environment Protection Committee for consideration at its meeting in April 2018. If approved, the draft amendments could be adopted by October 2018 and enter into force on 1 March 2020, just two months after the 0.50% limit comes into effect.